Happy Monday Friends! I hope everyone had a wonderful weekend. We had perfect fall weather here in DC – 58 degrees and sunny. I love the cooler weather, wearing layers and watching football! I also love all the colors that the fall season brings…give me ALL the warm tones 🙂 One of my favorite colors for fall is nude. If I'm being honest, nude is one of my favorites all year round but I wear it more often in the fall.
Today, I'm sharing this fantastic suede and leather nude moto jacket! Its from an online shop called Shein. Shein is one of those websites where you can hit the ball out of the park with a great quality item for a steal of a price…. OR completely strike out. This moto jacket is a home run ya'll! (I shared tips to shopping their website in a recent post here.)
It's the perfect year around jacket to wear to a movie, dinner with the girls, or run a quick errand. The color and fit are very flattering. I love how the zippers and buckles add that little something extra to an already amazing coat. I styled it with jeans and boots, but I also took a few pictures paired with a classic nude heel. You can absolutely wear this $43 jacket with a dress, skirt, or tunic/leggings. It fits true to size. For reference, I'm 5'3 (110lbs) and wearing size Small.  If nude isn't your thing, it also comes in black.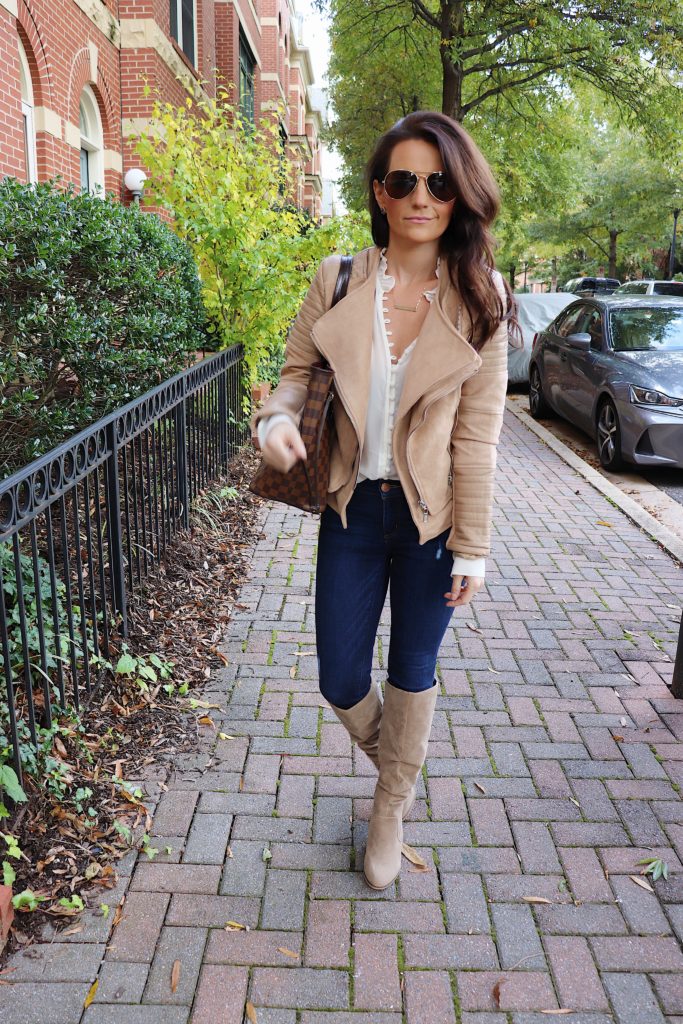 outfit details: moto jacket $43 / skinny jeans on sale for $39/ tan boots  / similar white blouse / louis vuitton neverfull bag / necklace / sunglasses
Here are a handful of other great moto jackets all UNDER $100!