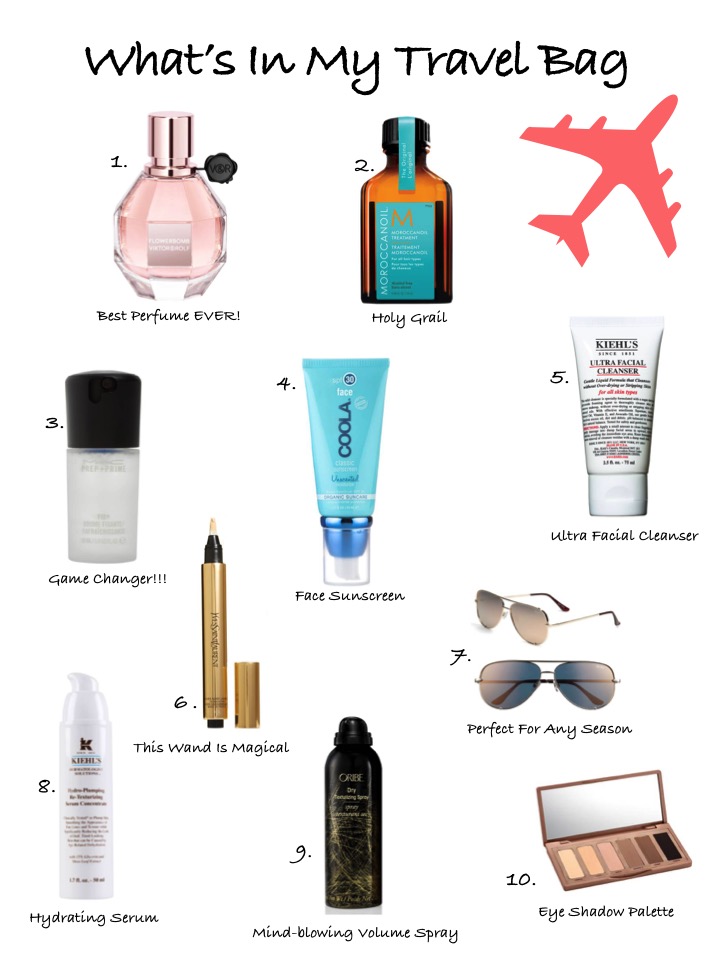 When packing for at trip, I'm usually running around and panicking about forgetting something really important! To add to the madness, I also have to pack a hundred and one things for Stella. She has a lot of needs!! The day I add a baby to the mix is going to be even more challenging. That being said, one thing I've learned when it comes to traveling, almost anything I forget can be purchased when I get to my destination. It totally isn't a big deal. However, there are a few items that are either pricy or hard to find that I triple check that I've tossed into my travel bag! The 10 items pictured above are must-haves for me and I need them even more when I'm on the go!
10 ITEMS I ALWAYS TRAVEL WITH
This perfume is the flowerbomb dot com….(see what I did right there). Every so often, I'll branch out and buy a different perfume, but FlowerBomb ALWAYS finds its way into my suitcase. We all have different taste on scents/fragrances, but this is one that I think everyone is bound to love! It's also long wearing, sticks to you and your clothing well. If you purchase this perfume be prepared for tons of compliments.
This has been my go-to for years now. Regardless of how much conditioner I use to put in my hair, I had the hardest time getting a brush through it. I'm sure my sister Vanessa remembers how many tears I cried before school when we were growing up. My hair is just naturally naughty! I put a dime size amount in my wet hair and my brush has no problem.
This spray is a game changer!! It takes away that powder look after applying makeup and gives that flawless finish. The spray can make any cheap/dusty shadows look like pigmented quality colors! It keeps my makeup in place and looking fresh all day (even in 100 degree heat). I use it daily even when I'm not wearing makeup. LOVE THIS STUFF!!
I'm really big on wearing sunscreen even when it's cloudy. Coola is lightweight and organic so it's not packed with every kind of chemical on earth. It's also one of the few sunscreens that doesn't irritate my skin.
I'll admit it.. I'm obsessed with skincare and am forever trying new products. However, Kiehl's Ultra Facial Cleanser has ended my cleanser quest! It never leaves a residue, never irritates my skin, removes my makeup, and keeps my pores clean! It's also gentle, non-irritating, and leaves my face feeling great. A little goes a long way.
This product is a true magic wand!! No sleep, no problem. This is my secret weapon to looking rested, even when I don't feel it. It conceals, highlights, hydrates, brightens, defines, and hides without looking cakey. I always buy two at a time, because I cannot imagine NOT having a back up.
They are comfortable & go with any outfit. I love that they are larger than your average aviator and are available in a few different color options.
I apply this serum after I put on my moisturizer and there's a vast difference in my skins appearance. It truly helps revitalize and hydrate down to the core. Airplanes cause your skin to get dry and lose a lot of water so it is important to stay hydrated and moisturized.
This does it all — adds hold, creates texture and smells incredible. I can also count on my hair not being flat when I travel as long as this is in my bag. I use it two ways. It works as a styling spray by adding tons of texture to my very fine hair and also functions as the best dry shampoo! No chalky or sticky residue what so ever. Did I mention the smell is divine?!?!
It's small and compact so I can easily pack it rather than single eye shadows. There are so many ways to use the colors within that I can use it for a week and never have the same makeup look twice. The lightest shade I use that as a highlighter and the darker brown I use for my brows. The mirror also comes in super handy!!