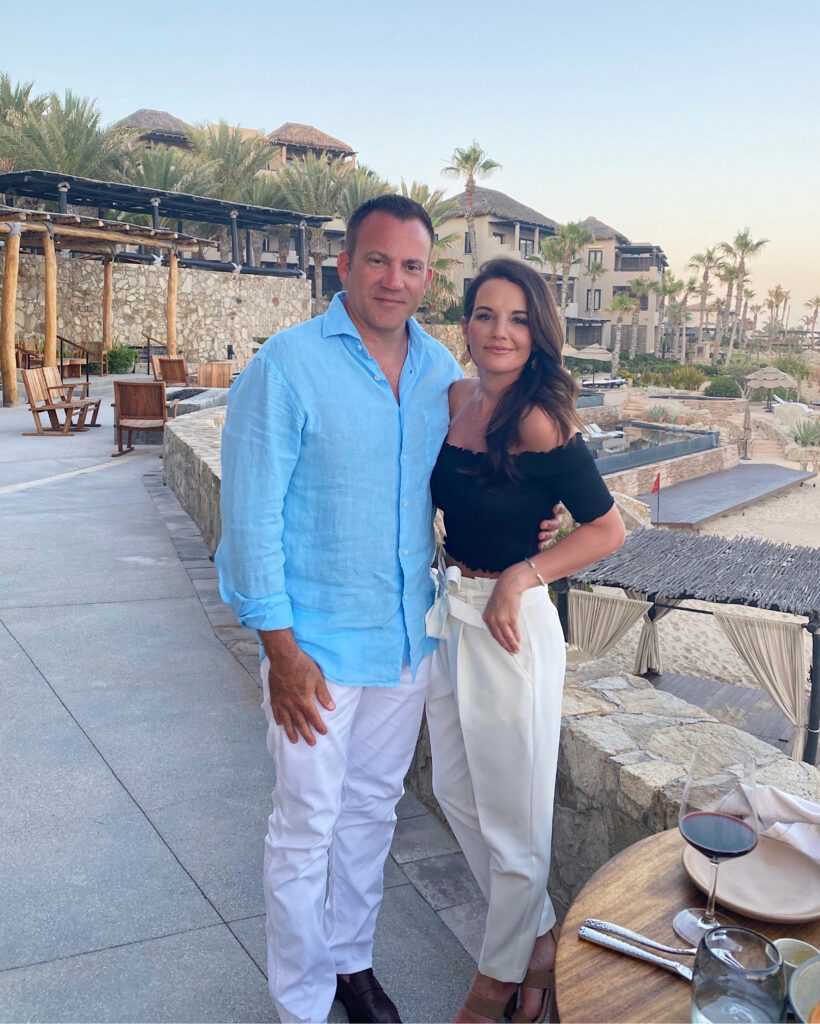 We've traveled twice since the end of May. A little back story, each year for my birthday (May 22nd) Chris and I go away on a big trip. Due to the pandemic / Covid19, international travel was out of the question for May 22nd so we decided to fly to Palm Coast, Florida and spent my birthday and Memorial Day on the beach. Chris has family in Palm Coast so we were also able to spend time with them as well which was nice. I will admit, I was VERY nervous about being in the airport and getting on an airplane. It went so smoothly that once we returned from Florida, Chris surprised me with a trip to Cabo. Since we already did basically a trial run, I was not as worried about flying to Mexico. Below are a handful of the top questions I've been receiving.
Did you Uber to and from the airport?
Chris' daughter dropped us off and picked us up. In Cabo, the hotel we stayed at has a number of SUV's that they use for hotel guest. They are brand new cars and extremely clean. They had hand sanitizer, mask', gloves, and disinfectant wipes in the car.
Is Cabo Open?
Cabo started to reopen June 1st, 2020. Hotels are opening different weeks.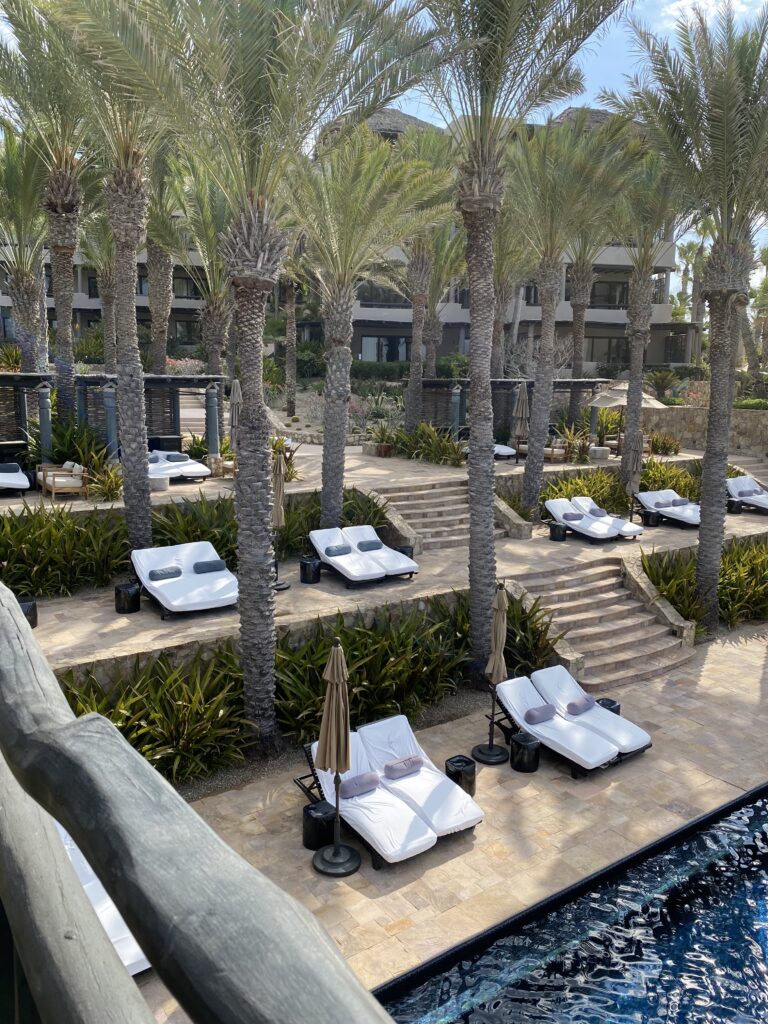 Where did we stay in Cabo?
This is our third time staying at Esperanza. Its breathtaking. There are so many pools, the rooms are insanely beautiful, the food is delicious, the drinks are strong, and the service is second to none. The level of attention to detail will blow you away. Normally the rooms are around $900+ a night but due to covid19, they are heavily discounted and they are offering a free night stay, free transportation to and from the airport (which you need for safety), and free breakfast each day.

Here is a list of the hotels and when they opening:
Reopening June 8th, 2020
Alegranza

AR Luxury Suites

Bahia Hotel

Baja Cabo

Cabo Country Club

Cabo Inn

Cabo Villas

Cactus Inn

Casa Costa Azul

Casa del Mar

Casa Dorada

Casa Natalia

City Express Plus

City Suites

Comfort Inn

Estancia Real

Fairfield Inn

Four Seasons

Grand Solmar Land's End

Grand Velas

Hacienda Encantada

Hampton Inn

Hard Rock Hotel

Hilton Los Cabos

Holiday Inn

Hotel Aeropuerto

Hotel del Angel

Hotel Dos Mares

Hotel El Ganzo

Hotel J y M

Hotel Santa Fe

Hyatt Place

JW Marriott

La Marina Inn

Las Palmas

Las Ventanas al Paraiso

LCH Goldscape

Le Blanc Spa Resort

Live Aqua

Los Milagros

Los Patios

Mar de Cortez

Mar del Cabo

Mariamar Suites

Marina Fiesta

Medano Hotel

Mirador del Cabo

Montage Los Cabos

One & Only Palmilla

Palmilla Dunes

Palo Verde

Paradisus Los Cabos

Park Royal

Playa Grande

Plaza Los Arcos

Posada Antonio

Posada Real

Posada Terranova

Pueblo Bonito Los Cabos

Pueblo Bonito Pacifica

Pueblo Bonito Rose

Pueblo Bonito Sunset Beach

Pueblo Bonito Montecristo Estates

Quinta del Sol

Real Dorado

Riu Santa Fe

Royal Solaris

Santa Maria

Senor Manana

Seven Crown Express

Siesta Suites

Tesoro Los Cabos

The Bungalows

Tropicana Inn

Villa del Palmar

Westin Los Cabos
Reopening June 10th
Sheraton Hacienda del Mar
The Cape, A Thompson Hotel
Reopening June 16th
Solmar Resort
Reopening June 18th
Reflect Krystal Los Cabos
Reopening July 1st
Barcelo Gran Faro Los Cabos
Breathless Cabo San Lucas
Casa del Mar
Club Regina
Dreams Los Cabos
Hyatt Ziva
ME Cabo
Riu Palace Los Cabos
Secrets Puerto Los Cabos
Sirena del Mar
Solaz
Viceroy Los Cabos
Villa del Arco
Zadun, A Ritz Carlton Reserve
Are activities open in Cabo?
Everything in our hotel was open. The spa, pools, gym, fitness classes, bike rentals, and etc were open. Activities outside of the resort were closed. If you've been following me for a few years, you know I LOVE deep-sea fishing. My best catch in Cabo was a 180lb blue marlin which I released back into the sea. I was bummed I wasn't able to fish this trip. The good news is all fishing, tours, water activities and excursions are set to reopen on June 15th or shortly thereafter.
Are restaurants open in Cabo?
The restaurants at Esperanza are fully open as well as in room dining. We didn't leave the resort however restaurants in town are expected to reopen table service on June 15th.
Which airline did you fly?
We flew American Airlines to Cabo and JetBlue to Florida. Both airlines had the same safety protocols.
The Cabo airport is open and receiving flights daily. Anti-COVID sanitary protocols are in place at the airport, and health officials are conducting passenger screenings.
Currently you can get to Los Cabos International Airport (SJD) with the following Airlines:
Alaska Airlines
American Airlines
Delta/AeroMexico
VivaAerobus
Volaris
Southwest Airlines
United Airlines
***Spirit Airlines: is planning on resuming trips July 5th
How was the airport?
Since we both needed to check a bag we arrived 1.5 hours before our boarding time. DCA which is usually busy, felt like a ghost town. Security was a breeze. There was zero line. Chris and I are both TSA PRE so we didn't need to take off shoes or etc. We were asked to pull down our mask (don't forget to bring your own mask as all airlines are requiring passengers to wear them) while the TSA agent checked my ID, and the automatic bin stations were spaced out for social distancing, but overall the process felt remarkably normal. There were TONS of hand sanitizing / Purell stations placed around the terminal. After security, the ghost-town vibes continued.
Are the shops & restaurants open at the airport?
Most of the shops and restaurants were closed, as well as the airport lounges. We had a layover at DFW (Dallas,TX) and a lot more was open.
How was boarding the plane?
Boarding began about 45 minutes before departure. It was a very easy process and done from back-to-front. With so few people traveling, what normally is a frantic and sometimes stressful process, it felt extremely calm.

How was social distancing on the airplane?
Every single person on the plane was required to wear a mask the entire trip. Make sure to bring your own mask since airlines are not supplying them. American Airlines had the middle seat in every row blocked off, which is something I could get used too. It was really nice not having to sit next to anyone – not even Chris (kidding) They also had the first and last two rows of the aircraft blocked off as well. The plane looked noticeably clean, but once on board I cleaned both of our seats, with Clorox wipes I brought from home. From a service perspective, things were noticeably different. For starters, there was no food or beverage service. When I boarded each flight, I was handed a white gift bag, which had a hand wipe, regular size bottle of water, pretzels, and cookies. I'd recommend bringing your own snacks and cleaning supplies on your flight.
For the record, this was my travel experience. If you're considering traveling in the near future, I highly recommend talking to your doctor before you hit the road. It was great to be back up in the sky and traveling. Please feel free to leave questions or stories from your own experiences below. Be sure to check out my Instagram to see all my recent post.
My Looks From Cabo
(Click on photo to get outfit details)