I'm a huge fan of all clothing that is cut high on the waist, but today my focus is on denim shorts 🙂 Whether you're meeting friends for coffee or headed out to a bbq on the weekend, you can't go wrong investing in a pair that you feel comfortable in. I'm really picky about shorts. I'm at that stage in my life where I'm not a fan of "booty shorts" but don't want to hide in bermuda shorts… anyone else with me?!
Here are my top picks for denim shorts:
(no secret #1 is my FAVORITE)

I have tried tons of different brands (One Teaspoon, GRLFRND, etc.) and no pair of shorts fit me quite like these. They are extremely comfortable, flattering, and easy to move in. They can be dressed down or dressed up with a blazer tank top and heels. I love that they cover my butt without being long and frumpy looking. They also don't ride up like other brands do. Highly recommended! A LOT of people have questions on sizing for these shorts. I ordered my normal size (which is a 25) and they fit perfectly – meaning they fit loose at the waist (near my belly button) and are loose in my thighs.
– If you want a normal to tighter fit SIZE DOWN one size.
– If you want a relaxed / loose fit get your REGULAR go-to size.
– If you have a bigger booty (I'm so jealous of you – btw) SIZE UP one size.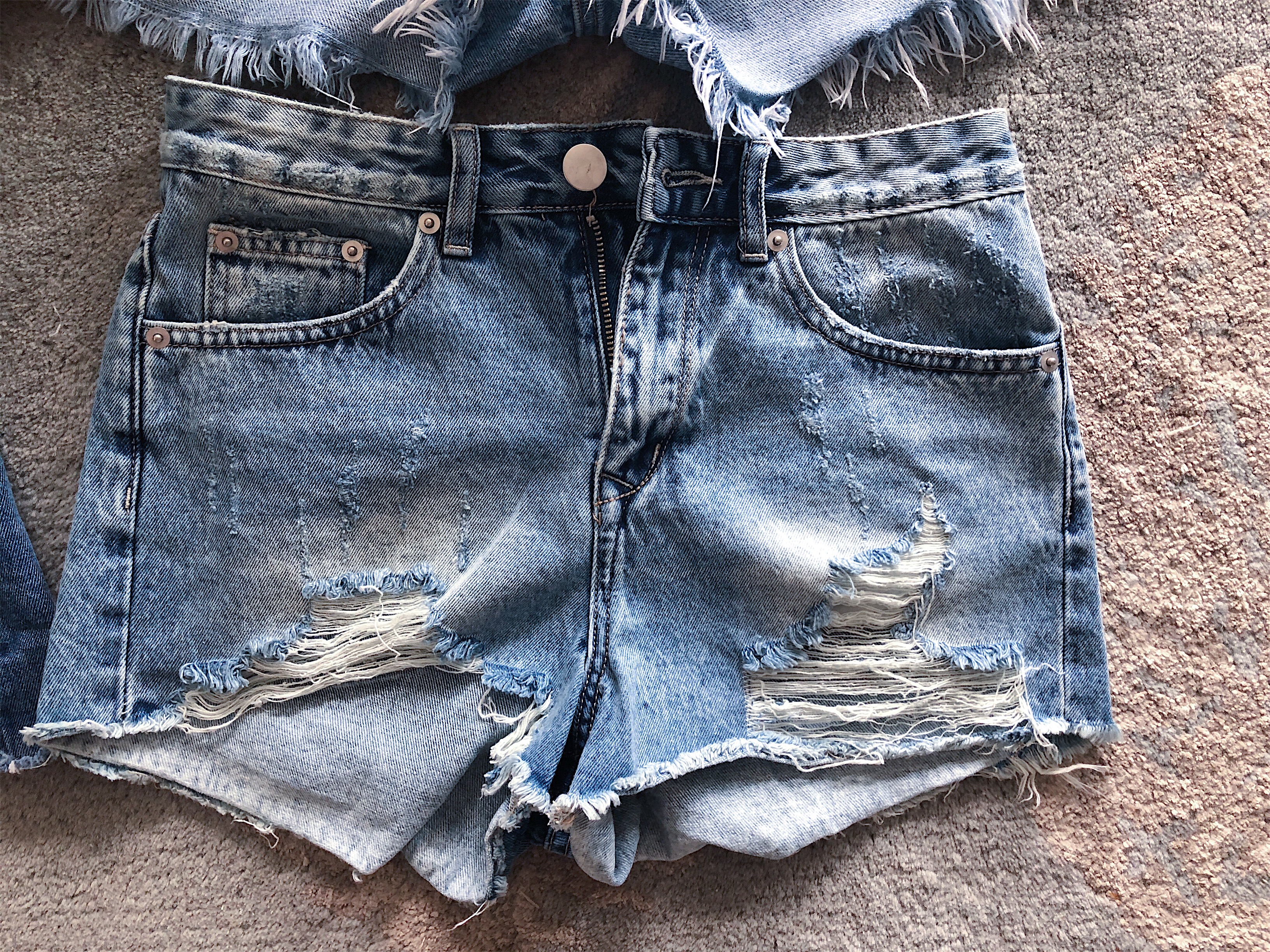 Love the Frayed hem along the front of the shorts (it does make one leg shorter) Like most of the shorts on this list these have little to no stretch. I really like that these shorts hit high on the waist and fit loose in thighs. The fit is true to size. I ordered my normal go-to size 25 and they fit just right.

For the price these are a good option. These shorts do run small so size up one size. I like that these are high waist and they're a decent length. They have zero stretch.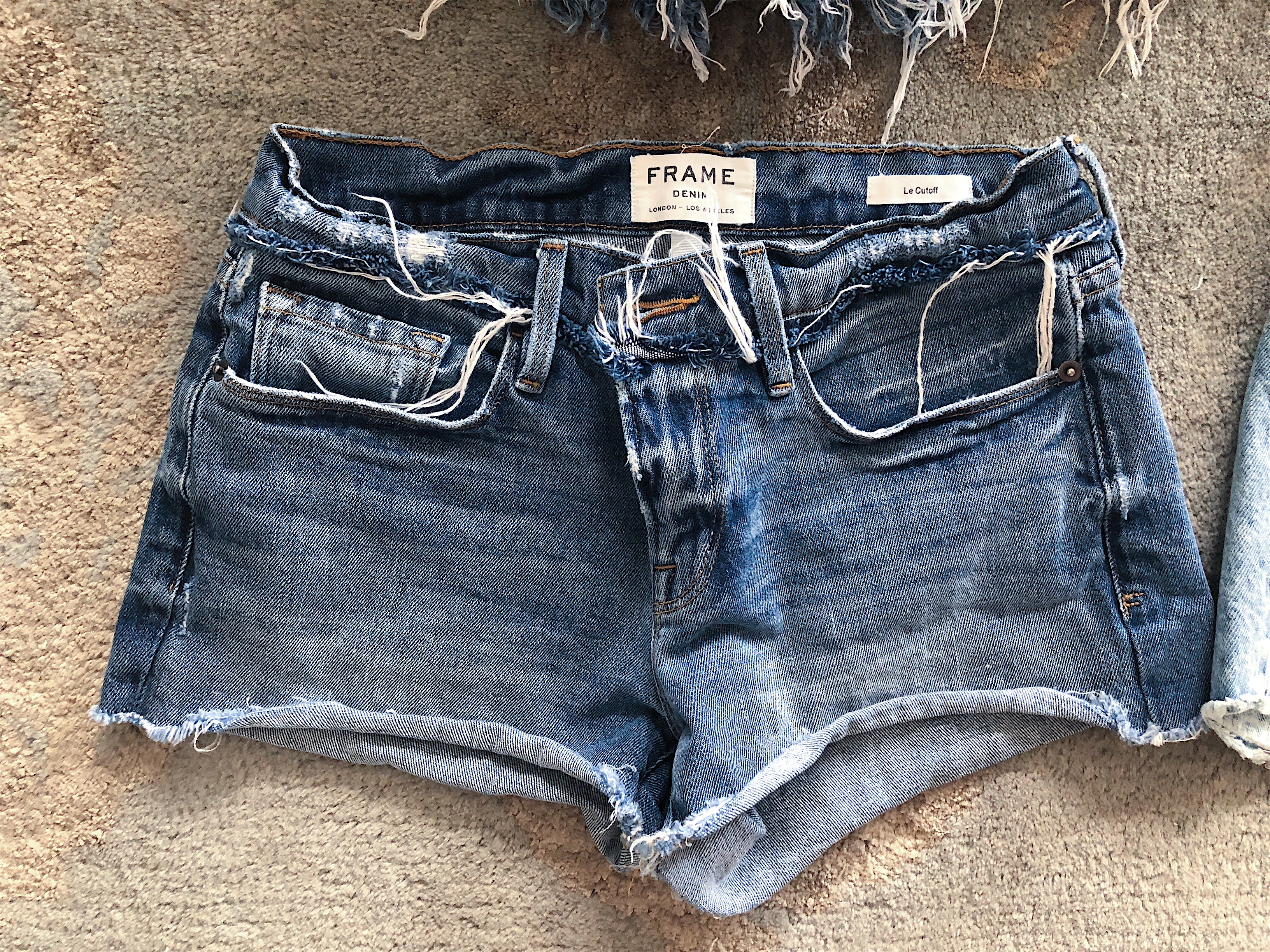 I bought these shorts last year and they have served me well (until I found short #1). I would consider this short to be more of a "mid-rise". They sit about 1 inch below my belly button and are around 2 inches shorter than all the other shorts I have listed. They have stretch in them (Cotton/polyester/spandex) which I really like and are very comfortable. If you're looking for a more fitted pair of shorts that are distressed these shorts would perfect for you!

These shorts are very comfortable with just the right amount of stretch. I like the higher rise. The cuffs are not sewn in so you can adjust the length a bit based on your preference or shirt length. I ordered my usual size and they fit well. The inseam is just right and I love being able to show some leg without living in fear of bending over. They fit true to size. If you want a more relaxed fit size up one.

Love price, distressing, high waist, and that they fit a little baggy in the thighs. If you're an avid Topshop shopper, you know that they are sized with UK sizes, which are typically 1-2 sizes smaller than our American sizes. I typically wear an American size 0 or 2 and in topshop I find myself to be a size 2-4.

I love the distressed hems and the distressed patches are what won me over with these shorts. They look way more dramatic in this picture than they are in real life. They are pretty short though, however they are cut well. The length is perfect for someone who isn't afraid showing off their legs but doesn't want their butt hanging out. The material is super soft.

I'll be honest, these shorts aren't the softest shorts but they look great! Great price and the length is not too short. They definitely hug the thigh in your true size, so consider sizing up one if you want a more relaxed fit.
Denim Colors I Like:

I'm 5'3" 110 and the 00 is perfect. The rise and the length in these shorts just right. The cuff is snug on my thighs but not at all uncomfortable because of the stretch. The stretch doesn't get baggie by the end of the day and even after a couple wears. My favorite thing has to be the price point $16.99!!
Women with a little more curve – this pair is pretty amazing: Denizen by Levi