Happy Saturday. Today, I want to share five must have items for your closet this season. I'm wearing all five of them together in this post but they can each be styled separately as well. The best part is that you can accomplish this look without spending a fortune!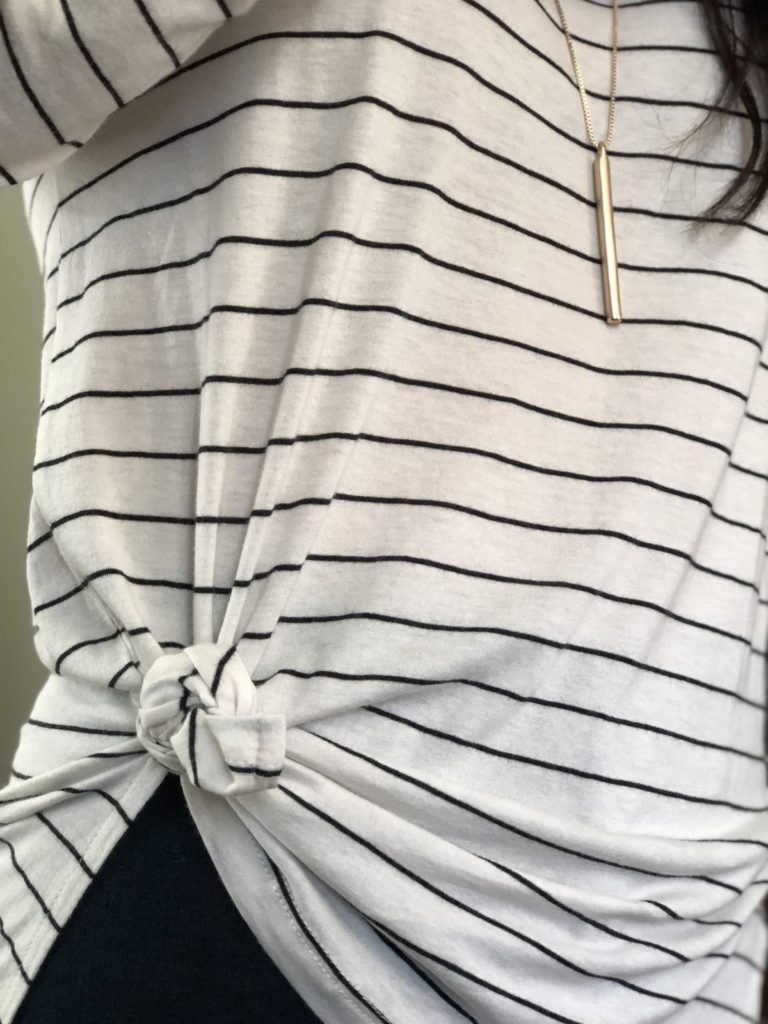 1. Green Military Vest – I purchased this vest from Nordstrom a little over a year agoand have gotten tons of use out of it! I can honestly say that I can wear this vest 12 months out of the year. It's perfect for layering over stripe shirts, dresses, and sweaters. This vest is only $88. It runs a tad big so size down – I have an XS. Target has a similar vest here for a lot less! $29.99 
2. Striped Long Sleeve T-Shirt –  I love a good striped shirt! Actually, I pretty much love anything that has stripes. This shirt is from Nordstrom and it's ONLY $19! They have a few different color options too. It's longer than your standard shirt which is great for this layering. When you find a nice long sleeve t-shirt, you should stock up because you never know when the next best one will come around! Runs large make sure to order one size down.
3. High Waisted Denim Jeans – They are easily some of the stretchiest jeans I own and the color and high-waiste on them is perfect. They run true to size and I'm wearing my normal 25. I feel like sometimes it can be hard to find the perfect pair of jeans but thankfully TOPSHOP has never let me down! The quality in their jeans is very durable and I love the price point of $65. I promise you will fall in love with these jeans the very first time you wear them!
4. Tan Pointed-Toe Mules – I purchased these mules from Nordstrom a few months ago. They are the Halogen Tan Mules. Sadly, they are completely sold out in tan at the moment BUT Nordstrom will occasionally restock, so if they do snag those ASAP! I love the color and pointed toe that these booties have. I've been on the hunt for a similar pair the last few weeks and have found a few options I really like: Kristin Cavallari "Capri" Mule. These are a little bit of a splurge coming in at $120 but the color and style are amazing.
5. Bar Pendant Necklace – This my favorite necklace and it's currently on super sale!!. (50% OFF) It comes in gold and silver. It's not expensive at all but it's looks it. The length and color is perfect for fall and it's currently on sale for $9.49! Talk about the perfect stocking stuff item! Long pendent necklaces are a must for fall. It's the perfect pop of elegance for any outfit!
Each of these pieces can be worn with several different items and I will continue to style them different ways this season. What are your favorite pieces for this season?